His Foundation in Okinawa
Bud

ō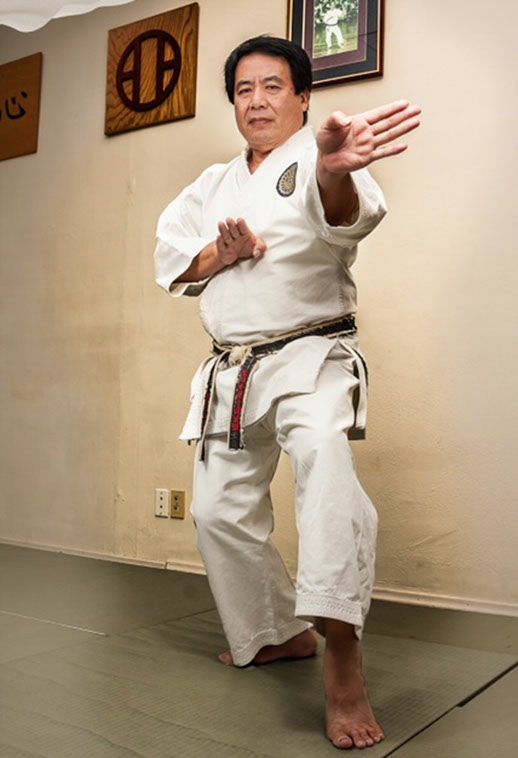 In 1965, whilst continuing his training in Shōrinji kempō, Shima became a direct student of Hayashi Teruō, who was then serving as the chief instructor of the Seishin-Kai in Ōsaka on behalf of its founder's son, Kuniba Shōgō. When Kuniba Shōgō assumed leadership of the Seishin-Kai in 1970, Hayashi left that organisation and founded Hayashi-Ha Shitō-Ryū karate-dō and Kenshin-Ryū Okinawa kobudō. By that time, Shima had ceased training in Shōrinji kempō to concentrate exclusively on Shitō-Ryū, so he also left the Seishin-Kai and remained a student of Hayashi Teruō until 1996.
Hayashi-Ha Shitō-Ryū is also a blended system. It combines the style of Shitō-Ryū taught to Hayashi by Kuniba Kōsei, who had been a direct student of Shitō-Ryū founder, Mabuni Kenwa, with Ryūei-Ryū karate, a formerly secret family style of karate taught to Hayashi by Nakaima Kenkō, as well as techniques and principles learned from Nagamine Shōshin of Matsubayashi Shōrin-Ryū.
In the early 1970s Shima was promoted to yondan (4th Degree Black Belt) in Hayashi-Ha Shitō-Ryū karate-dō and decided it was time he tested the effectiveness of his karate. So he traveled to Bangkok, Thailand and entered a Muay Thai tournament to see how his knowledge and skill in karate would fare against experienced Thai boxers. After winning some of his early matches and rising to the middle of the standings, he entered the ring to face one of Thailand's top competitors. Midway through the match, the Thai boxer landed a shin kick that knocked out all four of Shima's upper front teeth, ending the match. Whilst medical personnel were attending to Shima's injuries the Thai boxer stood by, apologising profusely. "Don't be sorry," Shima told him, "That was damn fine kick!"
In many respects, that incident epitomises Shima's approach to budō. It must be practical and effective; not just technically correct or conforming to the established standards of a particular style. And there is no cause for apologies for using good technique fairly against an opponent or training partner who is prepared and participating voluntarily, just because that person fails to defend against it. Such is the inherent risk of budō training.
In 1979, Shima moved to the USA, settling first in Escondido, California about 30 miles north of San Diego, where he began teaching karate-dō and Okinawa kobujutsu at the Escondido Police Department gymnasium. After performing demonstrations at the San Diego County Fair, Shima's reputation began to spread and he was invited to provide guest instruction at several Southern California dōjō throughout the 1980s.
In 1993 Shima opened a dōjō in the Clairement district of San Diego, California and established the JKI as the Japan Karate Institute. That same year, he was invited to perform a demonstration of Muso Jikiden at Ozawa Osamu's International Karate Championships in Las Vegas, Nevada. Also attending the tournament was Mabuni Kenzō, son and successor of Shitō-Ryū founder Mabuni Kenwa, who was making his first-ever public appearance outside of Japan. Shima arranged for one of his students to attend and critique Mabuni's seminar. All three returned in to the Las Vegas tournament in 1994 and repeated the process, which led to discussions between Shima and Mabuni in the following months.
In 1996 the JKI, now known as the Jikishin-Kai International, formally affiliated with Mabuni's Nihon Karate-Dō Kai. Shima remained a direct student of Mabuni Kenzō until the latter's death on 26 June 2005. Shima's association with Mabuni produced a significant change in his approach to teaching karate. Hayashi's focus had been almost exclusively on tournament competition, while Mabuni insisted vehemently that "Karate is not a sport. Karate is for killing." Mabuni was convinced that sport karate placed too much emphasis on techniques that were safe for competition, meaning they were relatively harmless, whereas the actual ōyō (practical application) of the techniques in kata is to incapacitate or kill an opponent in life-or-death combat.
In 1999, Mabuni promoted Shima to the rank of nanadan (7th Degree Black Belt). After Mabuni's death in 2005, Shima chose not to affiliate with any other karate organisation, but instead remained independent. In 2008 the Dai Nippon Butoku-Kai awarded him the rank of hachidan (8th Degree Black Belt) and Hanshi ("Exemplary Warrior") in karate-dō.